Mark Bray and Ora Kwo visited Tehran for a lecture on shadow education and the launch of a Farsi translation of the Comparative Education Research: Approaches and Methods and the UNESCO IIEP book Confronting the shadow education system. What government policies for what private tutoring?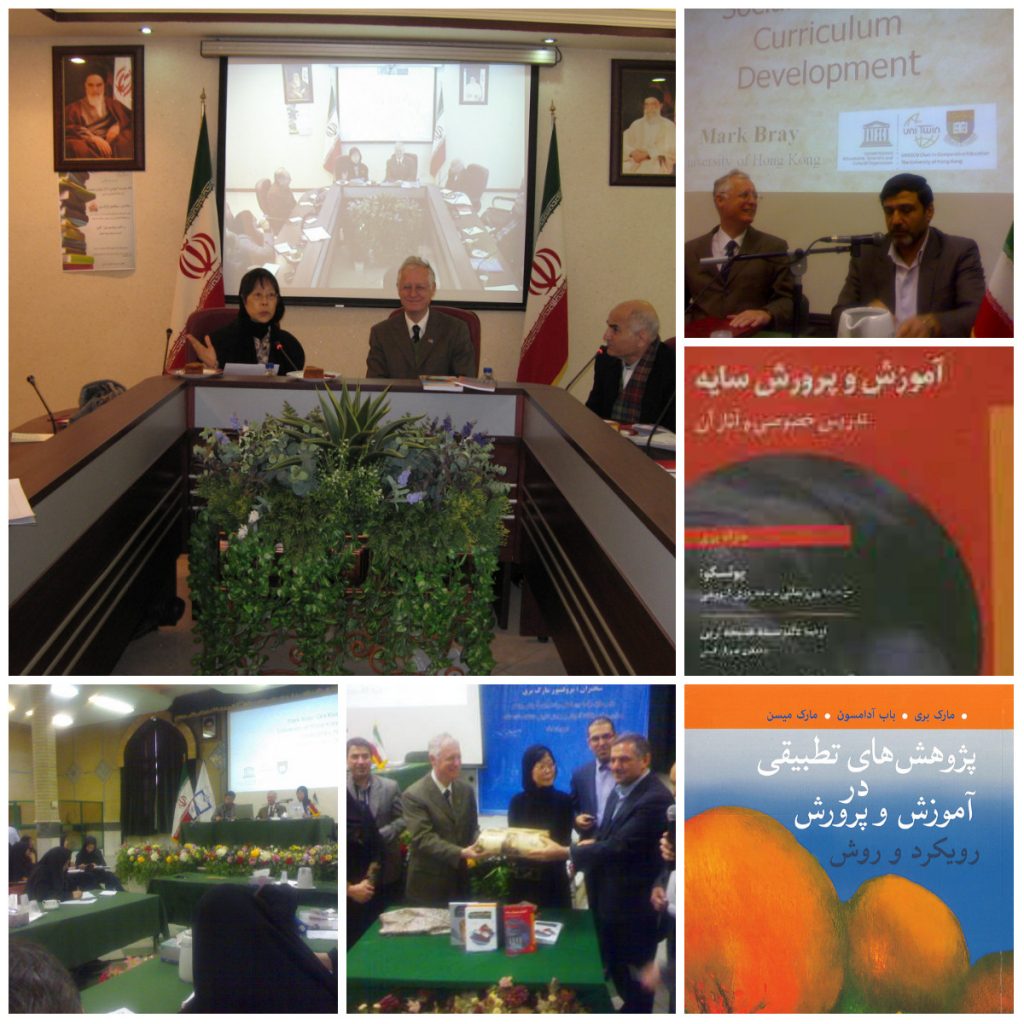 حضور در نشست‌هایی كه بر دانش و نگرش كار معلمی‌مان می افزاید، پویایی و طراوت و انگیزه‌ای زایدالوصف را ایجاد می‌كند. سازمان پژوهش و برنامه ریزی آموزشی وزارت آموزش و پرورش از این دست نشست‌ها را ترتیب می‌دهد. امروز فرصتی دست داد تا در نشستی با حضور استادی بین‌المللی و خیل گسترده ای از معلمان و متخصصان تعلیم و تربیت شركت كنم. این نشست حول موضوعی كه مبتلا به مدارس و خانواده‌های زیادی است و كمتر هم در مورد آن مداقه شده است تشكیل گردید. برای من جالب بود كه در موضوع تدریس خصوصی و اثرات اجتماعی آن مطالعات گسترده‌ای در سطح بین الملل صورت گرفته كه دكتر مارك بری از پیشگامان این امر بوده است.
او كه برای نخستین بار به ایران آمده بود، در روز دوم حضور خود، با هماهنگی‌های صورت گرفته در چنین نشستی حضور یافت. ایشان كه متولد لندن است به همراه همسرش هر دو از استادان دانشگاه هنگ كنگ بوده و به كشورهای زیادی سفر كرده است از جمله اینكه در كنیا و نیجریه معلم دبیرستان نیز بود. او به مدت شش سال ریاست موسسه بین المللی برنامه ریزی آموزشی یونسكو را نیز عهده دار بود و تا هفته آینده میهمان جمهوری اسلامی است. در صفحه شخصی ایشان در سایت دانشگاه هنگ كنگ چنین آمده است:
موضوع تدریس خصوصی و به تعبیر پروفسور، آموزش و پرورش در سایه (Shadow Education)، موضوعی مغفول و مجهول در آموزش و پرورش ماست. بنا بر اظهار نظر خانم دكتر آرین، برخلاف حساسیت زیاد آموزش و پرورش كه به جنبه‌های مختلف جریان تعلیم و تربیت می‌پردازد، این نوع آموزش كه به زعم وی محیط سوم آموزش بعد از مدارس معمولی و مدارس خاص (استعدادهای درخشان و استثنایی) است، كمتر حساسیت و حتی اطلاعاتی نسبت به آن هست.
خانم دكتر آرین كه از سخنرانان كوتاه این نشست بودند، مترجم كتاب آموزش و پرورش در سایه: تدریس خصوصی و آثار آن نیز می‌باشند. كتابی كه در كنار دو كتاب دیگر پروفسور مارك بری ترجمه شده و در انتهای نشست از آنها رونمایی شد.
در معرفی این كتاب می‌توان گفت:‌ نظام سایة تدریس خصوصی تكمیلی بسیار گسترده و در برخی نقاط جهان در حال رشد است. تدریس خصوصی اگرچه در بهبود وضعیت تحصیلی دانش‌آموزان موثر است، ولی از طرف دیگر بر كیفیت آموزشی، عدالت و آموزش خلاق تاثیر منفی دارد. به عقیدة نگارنده گسترش تدریس خصوصی تكمیلی را می‌توان در چارچوب گرایش جهانی به بازاری كردن آموزش و پرورش و كاهش كنترل دولت، مشاهده كرد. برخی از اهداف تهیة كتاب حاضر عبارت‌اند از: نظارت بر ارزشیابی و تغییر در سیاست‌های آموزشی و تاثیر آنها بر نیازهای برنامه‌ریزی آموزشی؛ و تاكید بر موضوعات جاری برنامه‌ریزی آموزشی و تحلیل آنها در زمینه‌های تاریخی و شرایط اجتماعی. نگارنده ضمن بیان اصول اساسی برنامه‌ریزی آموزشی، مباحثی مانند ویژگی‌های تدریس خصوصی؛ تولیدكنندگان و مصرف‌كنندگان آن؛ تاثیرات آموزشی، اجتماعی و اقتصادی تدریس خصوصی؛ و تنوع و تحول نظام‌های آموزشی را بررسی كرده است.
در ادامه مطلب به شرحی از محتوای مطالب مطروحه در این نشست می‌پردازم.
نوع مطلب : پراكنده
برچسب ها: دكتر مارك بری تدریس خصوصی آموزش و پرورش در سایه سازمان پژوهش