In the past 28 years since regaining independence from the Soviet Union, Lithuania has transformed its society and the higher education system. Since joining the European Union in 2004, Lithuanian higher education has aligned its policies and practices with the EU. This integration created many opportunities as well as some challenges.  In this presentation, we will examine how the system of higher education in Lithuania has developed from the Soviet to current times and how the integration into the European Union higher education community has created new possibilities for Lithuanian scholars.
In this presentation, the speakers will discuss the effects of both the past and current developments and will share the contemporary needs of the Lithuanian higher education community. The topics to be explored include:
Institutional autonomy of the academic community and the interaction with state needs;
Development of research, science, and innovation in Lithuania;
Challenges in human resources
Student preparation for higher education studies;
Support for under-privileged social groups
The current research project, "Researching Specialist Training to Provide Holistic Help to People with Disabilities in the Health Care System while Improving Researcher Competencies" will be used as a telling case to ground the discussions of the history, developments, and needs in Lithuanian higher education.
Chair: Dr. Susan Bridges. Discussants: Dr. Liz Jackson, Dr. Anatoly Oleksiyenko.
Presenters: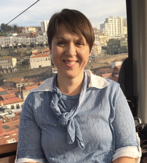 Prof. Audra Skukauskaitė is a senior researcher at Klaipeda University, Lithuania, as well as an independent researcher and research consultant for the Lemelson-MIT program at the Massachusetts Institute of Technology in the USA. Dr. Skukauskaitė resides in the US and serves as an adjunct professor of qualitative research methodologies in the College of Integrated Medicine and Health Sciences and the College of Social Sciences at Saybrook University in California, USA. Dr. Skukauskaitė has conducted seminars on varied qualitative research methodologies in Lithuania, Finland, Sweden, Australia and the US and has taught writing for academic publication in English for international scholars.  Dr. Skukauskaitė has published numerous research articles and book chapters focusing on ethnography, research epistemology and transparency, transcribing and interviewing, as well as on the teaching and learning of research. Dr. Skukauskaitė serves on editorial boards of four journals and has an extensive experience of reviewing and supporting the writing of manuscripts for academic publications. Over the past 15 years, Dr. Skukauskaitė has served in multiple leadership positions in the American Educational Research Association. Currently, she serves as chair of the Qualitative Research section of the Measurement and Research Methodology Division (D) as well as chair of the John. J. Gumperz Lifetime Achievement Award committee of the Language and Social Processes SIG at AERA.
As a researcher, research consultant, and professor of research methodologies and qualitative research, over her career, Dr. Skukauskaitė has worked with diverse scholars and students across disciplines to develop, conduct, and support research studies in complex educational and transdisciplinary environments. Her recent work has explored invention education and ways of utilizing ethnographic and discourse-based research epistemologies to examine complex processes of constructing and publishing research in science and engineering education. Dr. Skukauskaitė's overarching interests focus on ways of utilizing research-based ways of thinking and knowing to develop deeper understandings and trustworthy representations of the complex processes and practices of learning, teaching, and living in dynamic academic, socio-historical, economic, and cultural environments.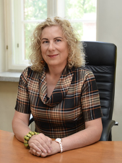 Prof. Ingrida Baranauskienė is a professor of Education and head researcher at the Faculty of Health Sciences of Klaipėda University (Lithuania). For over ten years, the professor has been the dean of the Faculty of Social Welfare and Disability Studies of Šiauliai University. The field of her scientific interests: preconditions for success in social participation of people with disabilities. I. Baranauskienė is a co-author of two monographs on the participation of people with disabilities in the labour market, an initiator of five scientific studies presenting research on social exclusion. She is an author of many scientific articles on disability research. To make an impact on active practice of Lithuania and other European countries, the professor takes an active part in international projects, initiates and implements them. I. Baranauskienė was awarded the title of the honorary doctor of the university "Ukraine" for her practical activities and support to the Ukrainian system of higher education. The professor has been elected as an expert in the area of Education Science in Latvian Academy of Sciences for a maximum term of three years. I. Baranauskienė is the editor-in-chief of the journal "Social Welfare: Interdisciplinary Approach", member of editorial boards of several other scientific journals. Currently, in cooperation with other scientists, I. Baranauskienė is investigating the accessibility of the health care system to Lithuanian people with disabilities through participation in the high-level scientific research project "Researching Specialist Training to Provide Holistic Help to People with Disabilities in the Health Care System while Improving Researcher Competencies". Judith Green, professor emerita of the University of California in Santa Barbara, is the leader of this project. The project is funded by the Research Council of Lithuania jointly with the European Union.


Prof. Liudmila Rupšienė is a professor and senior researcher at Klaipeda University. The main scientific interest – research methodology. Author of a number of books with three of them focusing on research methodology: Methodology of Qualitative Research Data Collection (2007), Methodology of Qualitative Research (2008), Educational Experiment (2016). Published more than 100 scientific articles, made around 100 presentations in scientific conferences in Lithuania and abroad (Latvia, Poland, Spain, Denmark, Russia, USA and many other countries). Member or leader of international and national projects (ERASMUS+ and others), Lithuanian principal investigator in European scientific project ESPAD. Scientific supervisor of doctoral students, supervised for 7 defended doctoral dissertations, chairwoman, member or opponent of around 60 doctoral dissertation defense boards, member of habilitation procedure board, member of the committee for the joint education doctorate of four Lithuanian universities consortium (since 2011). Expert of the State Studies Foundation, Centre for Quality Assessment in Higher Education, the president of Lithuanian Educational Research Association, council member of European Educational Research Association. Member of editorial boards of two Lithuanian academic journals.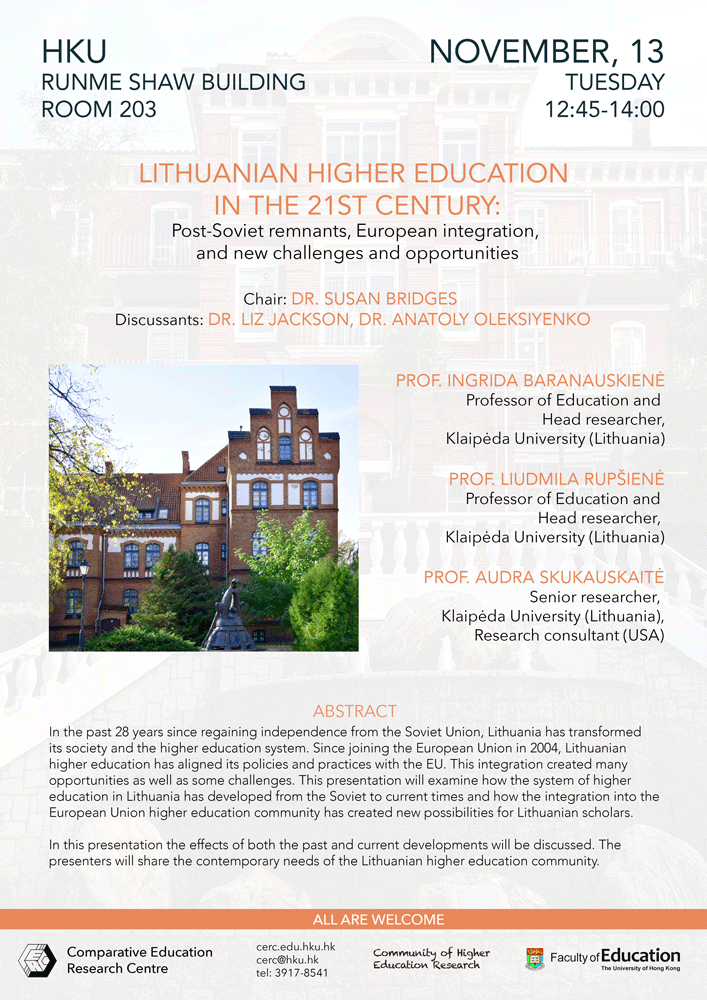 Date: Tuesday, 13 November 2018.
Time: 12:45 – 14:00.
Venue: Room 203, Runme Shaw Building.
All are welcome!