CERC's book entitled Shadow Education in Africa, published first in English in January 2021 and then in French, has now been published in Portuguese.
Its author, Mark Bray, launched the book on 19 November 2021 at a conference hosted by the University of Aveiro in Portugal. The conference focused on the management of education in times of uncertainty. Within this context, Professor Bray first gave a keynote address on shadow education worldwide, before turning specifically to Africa to launch the book.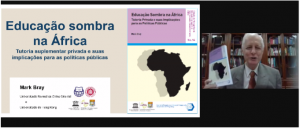 The event was chaired by the hosted by Alexandre Ventura who is himself a noted researcher on shadow education in Portugal and Brazil and who has excellent connections with Lusophone African countries including Angola and Mozambique. As a former Deputy Minister of Education in Portugal, Professor Ventura is helping to call the book to the attention of policy makers as well as researchers.
The next language in which the book will be published is Arabic. That will complete the set of four main official languages spoken on the African continent.