UNESCO, accompanied by six co-hosting agencies, has led the much-heralded World Education Forum, 19-22 May, in Incheon, Republic of Korea.
The event was successor to the 2000 Forum in Dakar, Senegal, reviewing progress on the Education for All agenda and setting new targets for 2030 as part of the Sustainable Development Goals to be approved at the United Nations in New York in September 2015. It led to the Incheon Declarationand a draft Framework for Action.
Mark Bray attended both the main event in his role as UNESCO Chairholder and a companion event for NGOs, representing theWorld Council of Comparative Education Societies.
In side meetings, Mark Bray met with a group of Ministers of Education in Commonwealth countries to prepare for the 19th Conference of Commonwealth Education Ministers (CCEM) to be held in The Bahamas 22-26 June 2015. In this domain, Mark Bray collaborated with Nasir Kazmi of the Commonwealth Secretariat and Marcellus Taylor from the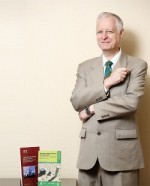 Bahamas.
Click here for the interview with Mark Bray from Choogan Chosun (주간조선), the oldest and most authoritative news magazine in Korea.