The tutoring industry in China, as elsewhere, is developing at great speed. The number of tutors now approximates the number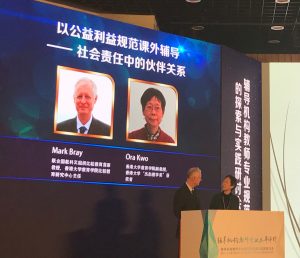 of teachers. The sector thus has far-reaching influence on the lives of children and families, and is a major employer.
China's authorities are concerned about standards in the industry, and perceive a need to regulate the competences of tutors. They asked the Chinese Society of Education (CSE), which was established in 1979 and acts as a bridge between the Ministry of Education and other actors, to consult key players on scope and mechanisms for regulation. A draft document has been prepared.
On 27 December 2016, the CSE convened a major conference in Beijing to consider the matter. Mark Bray made an opening statement calling attention to UNESCO goals, and he and Ora Kwo then jointly presented a keynote address. Their messages drew attention to social responsibilities, and gave prominence to the Chinese translation of their book Regulating Private Tutoring for Public Good that had been co-published in 2015 by the HKU Comparative Education Research Centre, UNESCO-Beijing, and the China Education Training Union.
The whole-day event attracted major players from the tutoring industry, and considerable press coverage. Ora Kwo has been appointed to a 10-person committee to take proposals to the next stage.