Return to CERC Studies in Comparative Education.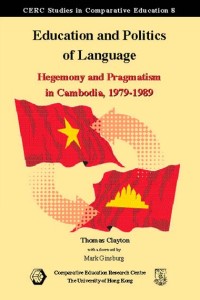 Thomas Clayton
2000, 243pp
ISBN 10: 962-8093-83-5
ISBN 13: 978-962-8093-83-0
HK$200 (local), US$32 (overseas)
Published by Comparative Education Research Centre (CERC)
Preview on Google Books
Language policies and practices are controversial in many parts of the world, and are an important focus for comparative study in the field of education. This book makes a major contribution to conceptual debates and understanding.
The book is grounded in the broad, international literature on this topic, and presents deep insights from the case of Cambodia during the decade from 1979. During this period, key elements of Cambodia's governance were controlled by the authorities in neighboring Vietnam. The type of linguistic and cultural dominance brought by this control was substantially different from that in most other parts of the world. As noted by Mark Ginsburg in the Foreword, Clayton's analysis of hegemony and pragmatism will attract a broad audience in the fields of language policy studies and comparative education, as well as among scholars concerned specifically with Cambodia.
Thomas Clayton teaches in the Department of English at the University of Kentucky, USA. His substantial links with Cambodia include responsibility for the first long-term US educational program in post-war Cambodia in the early 1990s, and, more recently, secondment to the Royal University of Phnom Penh with sponsorship from the Fulbright Program.