Return to Other CERC Books.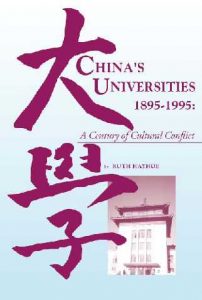 Ruth Hayhoe
1999, 322pp
ISBN 962-8093-81-9
ISBN 978-962-8093-81-6
Published by the Comparative Education Research Centre (CERC)
HK$200 (local), US$32 (overseas)
Order from CERC [out of stock] or online
Preview in Google Books
Given the 1996 Choice Outstanding Academic Book of the Year award, this volume has already received critical acclaim. As one reviewer noted:
Ruth Hayhoe is a treasure: everyone interested in modern China, comparative education, or the sociology of knowledge needs to follow her publications [Charles W. Hayford, East/West Education].
This book contains an admirable blend of detail and broad interpretation based on comparative interpretations of many kinds. It is exemplary in its scholarly presentation, and will long stand as a cornerstone work in the field.
Ruth Hayhoe is a noted specialist in comparative education who has long experience of education in China. She is Director of the Hong Kong Institute of Education, and is an Associate Member of the Comparative Education Research Centre of the University of Hong Kong. In 1997 she was elected Vice-President of the Comparative & International Education Society, and became President in 1999.
Contents
Foreword by Mark Bray
Introduction: A Story, Not a History
1. Concepts and Frameworks for Telling the Story
2. The Nationalist Story, 1911-1949
3. The Socialist Story, 1949-1978
4. The Story of the Reform Decade, 1978-1990
5. Perspectives from the Central South Region
6. Perspectives from the Northwest Region
7. Mass Higher Education and the Chinese University
Selected Bibliography