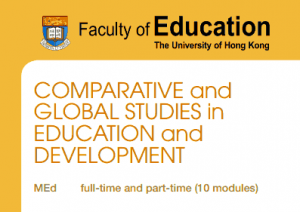 The University of Hong Kong has recruited a new cohort of Master of Education students. An information session was held on December 13, 2014  (Saturday) between 2:30-4:30 pm in the Wang Gungwu Lecture Hall, Graduate House, HKU.
Comparison is a fundamental tool for all forms of enquiry. When applied to education in an international setting, it assists in identification of factors which shape education systems, processes and outcomes, and instruments for improvement. The comparisons in this specialism will be framed by theories and understandings of the forces of globalisation. These forces bring benefits for many people, but can also have negative dimensions.
This specialism will examine forces of continuity and change and the implications for educators. It will also focus on the nature of development in an international context and on the role of education in the processes of development. This will include analysis of all levels of formal education (early childhood to higher education), and various types of nonformal education. It will include particular reference to UNESCO's Education for All (EFA) objectives in the context of the Millennium Development Goals (MDGs).
The specialist modules are:
Themes and approaches in the field of comparative education
Addressing the global-local nexus in education
Education for sustainable development
Critical issues in educational reform
In addition to four specialist modules, students will complete:
a research methods course "Methods of Research and Enquiry" (2 modules equivalent);
plus
either an option of one elective module and a DISSERTATION (3 modules equivalent),
or an option of three elective modules and a PROJECT by Independent Study (1 module equivalent).
For further information about this specialism, please contact Professor Mark Bray on (852) 2219 4194, by email: mbray@hku.hk.