Myanmar has been in a new era since the assumption of office on 30 March 2016 of the country's de facto leader, Aung San Suu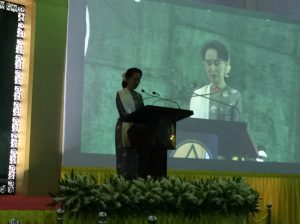 Kyi. The new government is determined to bring change, and places education high on the list of priorities.
On 21 and 22 July 2016, the Ministry of Education hosted a forum on basic education in Naypyitaw, the nation's capital. Approximately 700 persons assembled from all over the country, representing every level in administration of the education system. Mark Bray, UNESCO Chair Professor in Comparative Education, was privileged to deliver the opening keynote address entitled 'Control of Education: Issues and Tensions in Centralization and Decentralization'. The forum was opened by Aung San Suu Kyi, and Mark Bray took the opportunity to thank her for accepting an Honorary Doctorate from HKU in 2012.
During the address, Mark Bray recalled his own links with Myanmar, including participation in the UNESCO-sponsored Education Sector Study in 1990/91and the 2012 multi-donor partnership to chart directions in the education and health sectors. He also noted other links between HKU and Myanmar, including the programmes through which HKU students can teach English.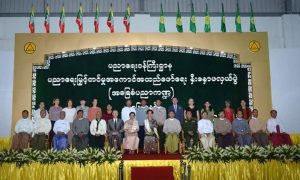 The next stage of collaboration with Myanmar under the umbrella of the UNESCO chair will focus on shadow education. It is expected to begin with collection of data on the roles of regular teachers in private tutoring, and will proceed to policy dialogue among stakeholders.