Return to the CERC Monograph Series.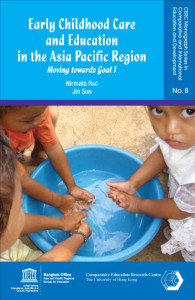 Nirmala Rao and Jin Sun
2010, 97pp.
ISBN 978-988-17852-5-1
HK$100 (local), US$16 (overseas)
Published by Comparative Education Research Centre (CERC) in collaboration with the United Nations Educational, Scientific and Cultural Organization (UNESCO)
Order this book from CERC or online.
Or download the book for free.
In 2000, the global community set six goals as part of the Education for All (EFA) agenda. This monograph considers progress towards Goal 1, namely "to expand and improve comprehensive early childhood care and education".Compelling reasons have been provided for investment in the early years, and much progress has been achieved in Asia and the Pacific. Particularly important are improved access and strengthened quality in early childhood services. However, much remains to be done to enhance child and maternal health, enhance the quality of services, and expand access particularly for children below the age of three. Further progress will require improved monitoring and attention to legislation. The book shows that policy priority and funding for early childhood care and education should markedly increase throughout the region.
Nirmala Rao is a Professor in the Faculty of Education of the University of Hong Kong. Her research focuses on early child development and education in Asia, and she has published widely in the area. She has been an adviser on early child development and education for international developmental agencies, and is actively involved in professional organizations concerned with the well-being of young children.Jin SUN is a Post-Doctoral Fellow in the Faculty of Education of the University of Hong Kong. Her professional interests include child development in social contexts, early childhood bilingual development, and early childhood education for disadvantaged children.Click here for the book review published in the journal International Review of Education, Volume 58, Number 3 (2012), 427-428