By Ruth Hayhoe
Chair: Li Jun
This will be a preview of my keynote for the World Congress of Comparative Education Societies in Beijing (August 2016). I will share the ideas I am working with on what it means for China to move into a central position in global educational affairs. The presentation looks at three themes: China's obligations, given its experience of receiving educational aid in the two decades after the Cultural Revolution, the emerging literature on key dimensions of China's educational civilization, and the shape of China's current educational aid to Africa and SE Asia.
Ruth Hayhoe is a professor at the Ontario Institute for Studies in Education of the University of Toronto.  Her professional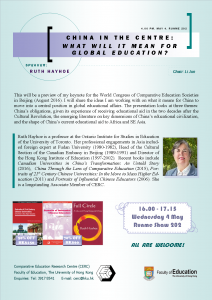 engagements in Asia included foreign expert at Fudan University (1980-1982), Head of the Cultural Section of the Canadian Embassy in Beijing (1989-1991) and Director of the Hong Kong Institute of Education (1997-2002).  Recent books include Canadian Universities in China's Transformation: An Untold Story (2016),  China Through the Lens of Comparative Education (2015), Portraits of 21st Century Chinese Universities: In the Move to Mass Higher Education (2011) and Portraits of Influential Chinese Educators (2006). She is a longstanding Associate Member of CERC.
Time: 16.00 – 17.15
Date: Wednesday 4 May
Venue: Runme Shaw 202
ALL ARE WELCOME!