The annual Best of UNICEF Research (BOUR) exercise showcases and recognizes high-quality, high-impact research done under the auspices of the organization. It "aims to draw attention to a vital part of UNICEF's work which generates knowledge to inform action, shapes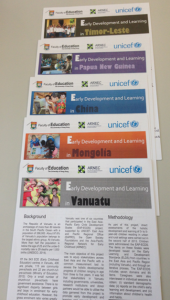 policy agendas and shifts discourse in order to improve the lives of children everywhere." CERC is delighted that Nirmala Rao won the 2015 award.
A total of 99 submissions of research conducted directly by UNICEF or commissioned through partners were received. From these, 12 studies were identified as examples of quality research and evidence gathering on children. An eminent international external review panel selected a further four for special commendation. These were considered to have potential policy impact, innovative design, thoughtful use of data, methodological rigour and potential replicability in both the country of origin and elsewhere. Among these was an entry entitled "Validation, Finalization and Adoption of the East Asia-Pacific Early Child Development Scales (EAP-ECDS)".
Nirmala Rao, Serena H.C. Yang Professor in Early Childhood Development and Education and a member of CERC, led the research team. Other team members include Diana Lee (Faculty of Education), Patrick Ip (Department of Paediatrics and Adolescent Medicine), and John Bacon-Shone (Social Sciences Research Centre).
The award is a great honour and achievement. Professor Rao flew to New York to receive the award on 6 July 2015. It is a practical demonstration of research to improve the lives of children around the world.