Speakers: Tina Besley & Michael A. Peters
Chair: Liz Jackson  
Discussants: Wing-­Wah  Law & Sarah  Aiston  
View a slideshow of the seminar: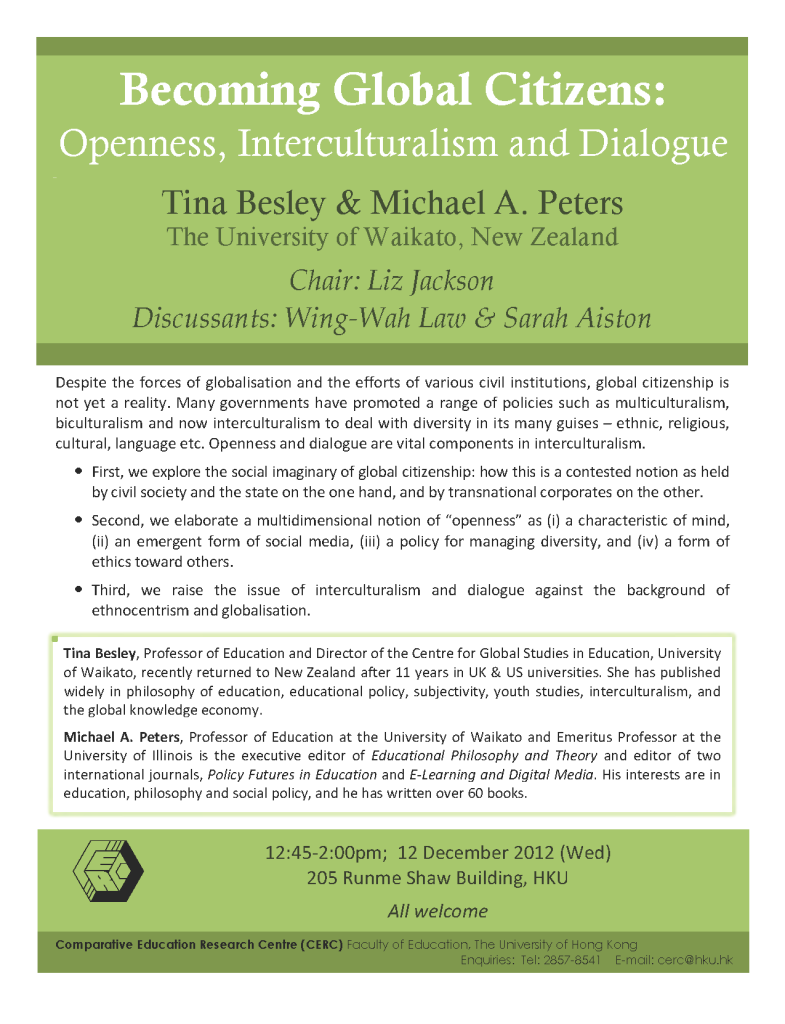 Despite the forces of globalisation and the efforts of various civil institutions, global citizenship is not yet a reality. Many governments have promoted a range of policies such as multiculturalism, biculturalism and now interculturalism to deal with diversity in its many guises – ethnic, religious, cultural, language etc. Openness and dialogue are vital components in interculturalism.
— First, we explore the social imaginary of global citizenship: how this is a contested notion as held
by civil society and the state on the one hand, and by transnational corporates on the other.
— Second, we elaborate a multidimensional notion of "openness" as (i) a characteristic of mind, (ii) an emergent form of social media, (iii) a policy for managing diversity, and (iv) a form of ethics toward others.
— Third,   we   raise   the   issue   of   interculturalism   and   dialogue   against   the   background   of
ethnocentrism and globalisation.
Tina Besley, Professor of Education and Director of the Centre for Global Studies in Education, University of Waikato, recently returned to New Zealand after 11 years in UK & US universities. She has published widely in philosophy of education, educational policy, subjectivity, youth studies, interculturalism, and the global knowledge economy.
MichaelA.Peters, Professor of Education at the University of Waikato and Emeritus Professor at the University of Illinois is the executive editor of Educational Philosophy and Theory and editor of two international journals, PolicyFuturesinEducation and E-­‐Learning andDigitalMedia. His interests are in education, philosophy and social policy, and he has written over 60 books.