By David Turner 
Chair: Mark Bray
Over the course of a single generation – from 1960 until now – the place of data in Comparative Education has changed completely.
In the 1950s almost no data was available, and experts held meetings about how data might be collected about national education systems – what data should be collected, and how could steps be taken to ensure that it was comparable. Today international agencies such as UNESCO, OECD and the World Bank make huge amounts of data about different national systems available, and they are committed to making more available in the future.
This seminar looks at how we are using that data, and whether the availability of data has made us more or less sophisticated in our approach to data.
David A. Turner is Professor emeritus at the University of South Wales in the UK, and Visiting Professor at Beijing Normal University. He is author of several books, including Theory and Practice of Education (Continuum, 2007) and Using the Medical Model in Education: Can pills make you smarter? (Continuum, 2011). He has been a long-serving officer of the World Council of Comparative Education Societies (WCCES).
Date: Wednesday 7 October 2015
Time: 12.45 – 14.00
Venue: Room 203 Runme Shaw Building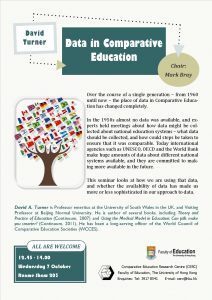 All are welcome!