CERC is glad to announce the publication of Shadow Education in the Middle East: Private Supplementary Tutoring and its Policy Implications. It is a path-breaking study of a region that has received little attention in the shadow education literature, and can be downloaded here.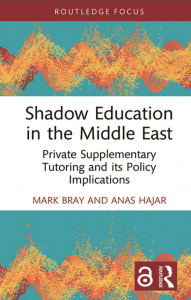 The book has been written by Mark Bray, who holds the UNESCO Chair in Comparative Education at HKU, and Anas Hajar who is an Associate Professor at Nazarbayev University in Kazakhstan. Both Mark Bray and Anas Hajar, who is a Syrian national, have undertaken empirical and policy-oriented work on shadow education in the Middle East as well as elsewhere.
The book focuses on 12 Arabic-speaking countries of the region. Six of these countries are members of the Gulf Cooperation Council (GCC), i.e. Bahrain, Kuwait, Oman, Qatar, Saudi Arabia, and United Arab Emirates. The other six are Iraq, Jordan, Lebanon, Palestine, Syria and Yemen. The GCC members are known for the prosperity brought by oil resources, and can usefully be compared as a group with the other six. At the same time, much diversity exists within each group.
CERC has a long history of research on shadow education. This book is an explicit sequel to Shadow Education in Africa, written by Mark Bray and published by CERC in 2021. Other books focus on Myanmar (Bray, Kobakhidze & Kwo, 2020),  Georgia (Kobakhidze, 2018), and Asia (Bray & Lykins, 2012). More information on the Shadow Education Special Interest Group (SIG) can be obtained here.